Insights
IHHS Smart Talks 2019
Listen to the Consumer - and Create Smart Products That Speak to Them
Smart products were the topic of the weekend at the IHHS 2019 Smart talks stage. Design Central's Tim Friar focused his time on Design Central's empathetic approach to design.
Our mission is to improve the lives of consumers and the bottom line for clients. Empathy is key to that approach and our empathy actually starts with our clients. We are the ultimate collaborators. We listen by asking where our clients want to go and design a custom process that fits their needs so that we can get them there. We partner by building a specialized team to work with our client's team from start to finish, assuring tangible results. We deliver by being driven by our client's success. No matter our mission with them, we involve them, push them and assure they shine.
Empathy plays a major role in Design Central's consumer research. We believe that a product's success starts with an understanding of the behaviors of each consumer and the emotional connections that drive those behaviors. We use a diverse array of methods to understand the consumer for each product and brand, including methods such as reflective research, task analysis, co-creation sessions and persona development. Reflective research allows our team to observe the consumer in their environment, engage in active listening and ask them questions like "what lead you to make that decision?"  Meanwhile, in our co-creation sessions, we bring together a variety of stakeholders from our client's multidisciplinary internal team, end users and stakeholders along the journey. This very quickly creates a platform that promotes collaboration and innovative solutions.
One newer research method we are seeing is the crowdfunding platform as a real-world test market.  Clients work with Design Central to fully develop a Beta product and then "sell" a limited number on a crowdfunding platform to gain user insights before development of the final product.  One example of this was Procter & Gamble's use of Indiegogo to test Airia, a revolutionary approach to whole-home scenting that will be available later this year. Design Central worked with P&G to develop Airia's first-generation product and packaging for validation on Indiegogo. 50 early adopters were recruited to join a Pioneer Program to test Airia in their homes and provide valuable feedback. This process confirmed to P&G that consumers found the SmartJet™ technology valuable unlike results from other methods, and enabled Design Central to continue collaboration with P&G on Airia's development for introduction at CES in January 2019.
When asked about some of the differences regarding designing smart or connected products Tim talked about designing the product for multiple user types. With multiple methods of interaction including voice, phone apps and tactile-on-product controls, it is critical that different types of users are able to have a great experience no matter how they choose to interact with the product. Some users may never use an app or voice recognition feature, while there are other users that will only use the app. Products need to be designed for all users.
Compatible trends we are seeing in other industry trade shows, such as Kitchen & Bath, Home Builders commercial food equipment, is connected products with the complete integration of touch screens in many new products. However, these trends play out slightly different depending on the industry and the targeted end user. With commercial a chef does not want to be told what to do when creating a new dish; however, the chef needs to be able to control consistency once an item has been created. In the home, however, the person preparing a familiar meal or a new dish may well appreciate step by step guidance.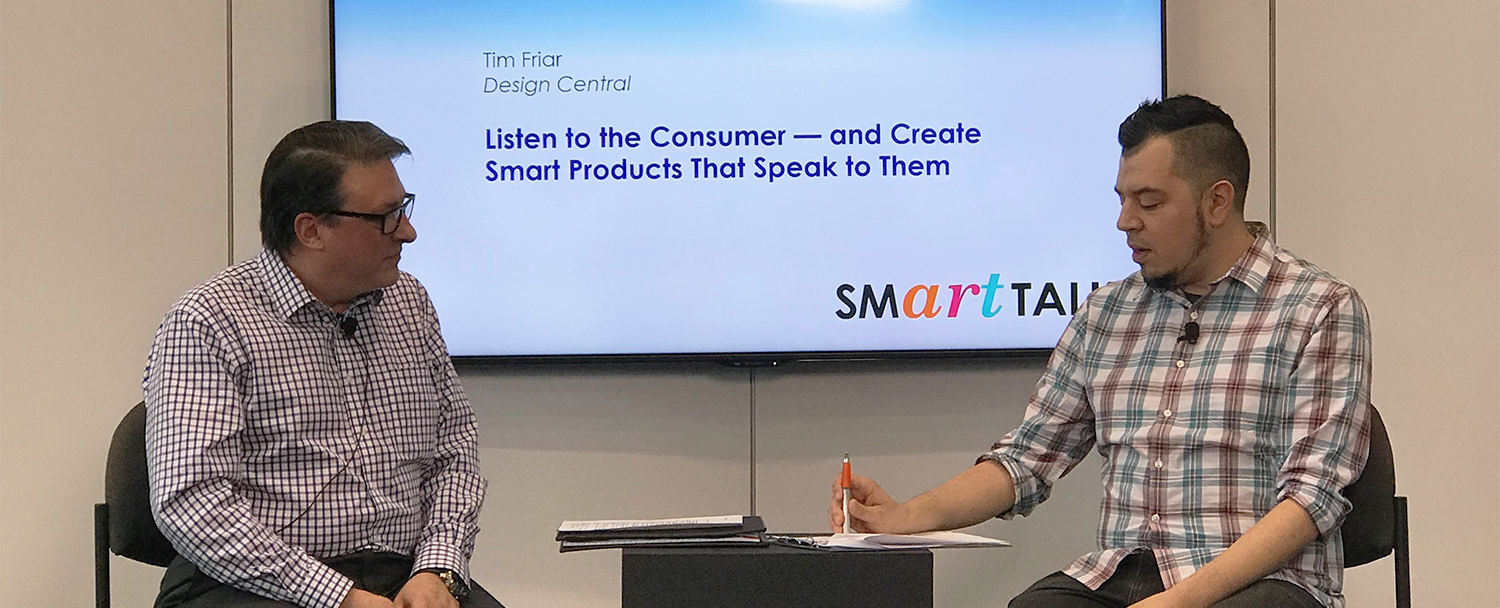 No matter what products you're creating, it really does start with empathy. And empathy starts with listening – with our eyes, with our ears and with our experiences.  
For more information about working with Design Central contact:
Tim Friar: t.friar@designcentral.com